Musicianship
November 3, 2023
• 0 Comment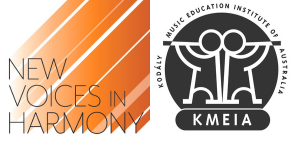 Musicianship Levels
Daily musicianship classes are built into the conference program, and provide an opportunity for delegates to expand their music skills and knowledge. These sessions support the development of sight-reading, sight-singing, aural perception, theory and part-work skills through active music-making according to the tools of the Kodály approach (moveable tonic sol-fa, rhythmic syllables and Curwen hand signs).
Participants are invited to choose the class that best suits their musical needs and experience. Everyone is welcome: beginners to professionals. Please indicate your anticipated level of Musicianship (solfa competency) when registering.
Level 1

Level 2

Level 3

Level 4

Level 5

Level 6

Level 7/8 (Advanced Studies)
Notes:
To work out your Musicianship level use the following self assessment Musicianship Level sheet.
These levels correspond with the Australian Kodály Certificate Musicianship levels.
Musicians new to using solfa are encouraged to select Musicianship level 4. Educators with limited musicianship and theory training are encouraged to enrol in level 1.